This store requires javascript to be enabled for some features to work correctly.
11 questions with Amber Dodson-Pitt
Describe your relationship in 3 words
Comforting, fun & affectionate
What is your favourite thing about your partner?
His humour. He always makes me laugh & I love seeing his true smile!
What style were you striving for with your wedding? Did you do anything different from traditional weddings, and if so, what did you do?
We strived for a classic look with a colour theme of forest green, gold and black. What I really loved about our wedding was that instead of having a traditional bridal table, we had 5 very long tables of guests and my partner and I sat in the middle table with all of our favourite people. We both wanted to be right in the middle of the party, instead of watching it happening in front of us. Another touch I really loved about our wedding is that we made leather keyrings with the guest names in gold, which doubled up as name place settings and wedding favours!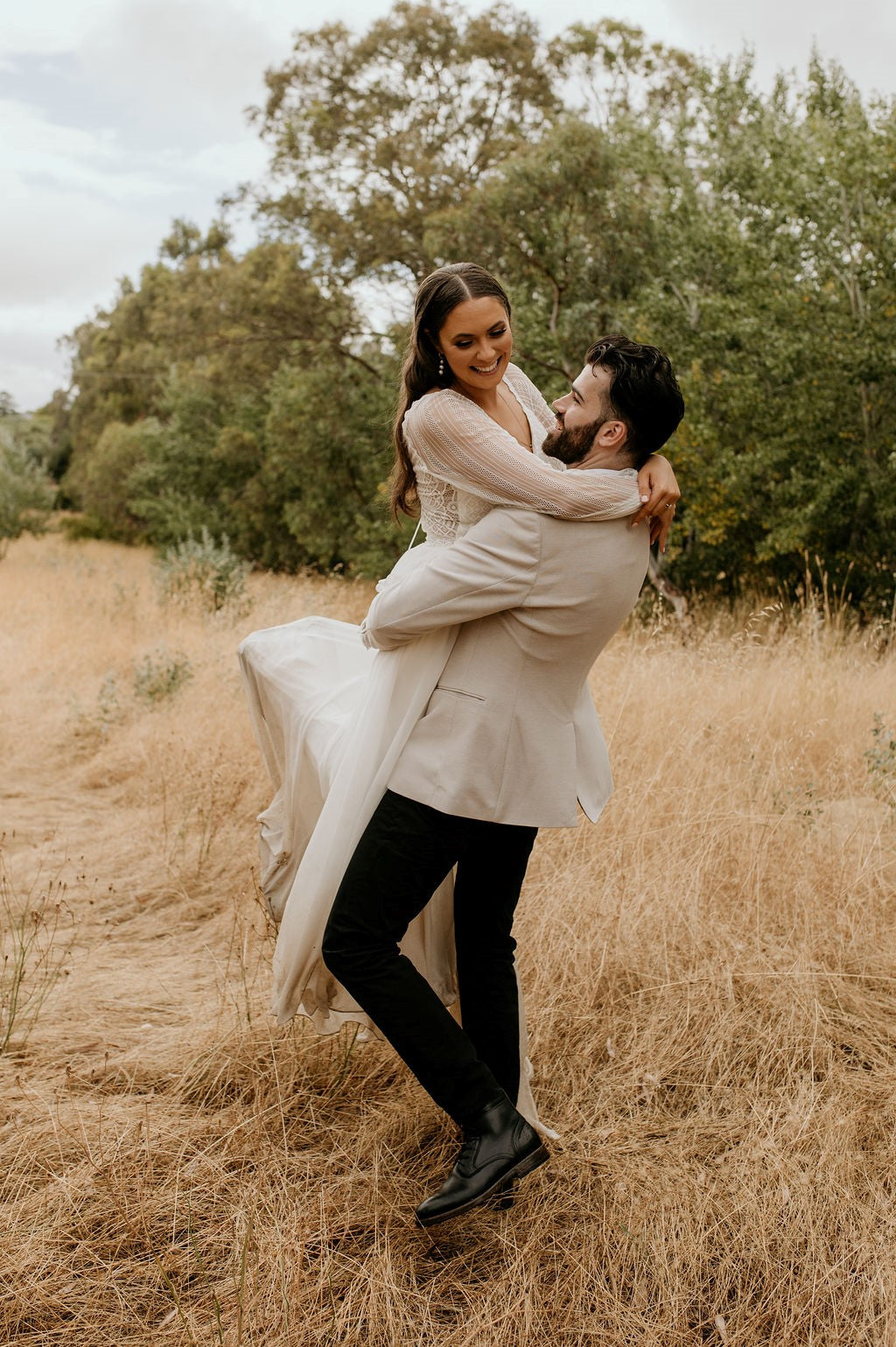 What did you do for your bachelorette party?
We did a "Drink & Paint" afternoon, Peach Bellinis and some interesting looking paintings - a day to die for! 
How many dresses did you try before you knew you'd found "The One"? How did "The One" look like?
I tried about 10 in total from two different bridal stores. I knew it was the one when I stepped out of the dressing room in it and my mother, sister and sister-in-law all teared up. It was the most comfortable dress I had tried on, something that was important to me AND above all, it looked amazing - what more could I ask for!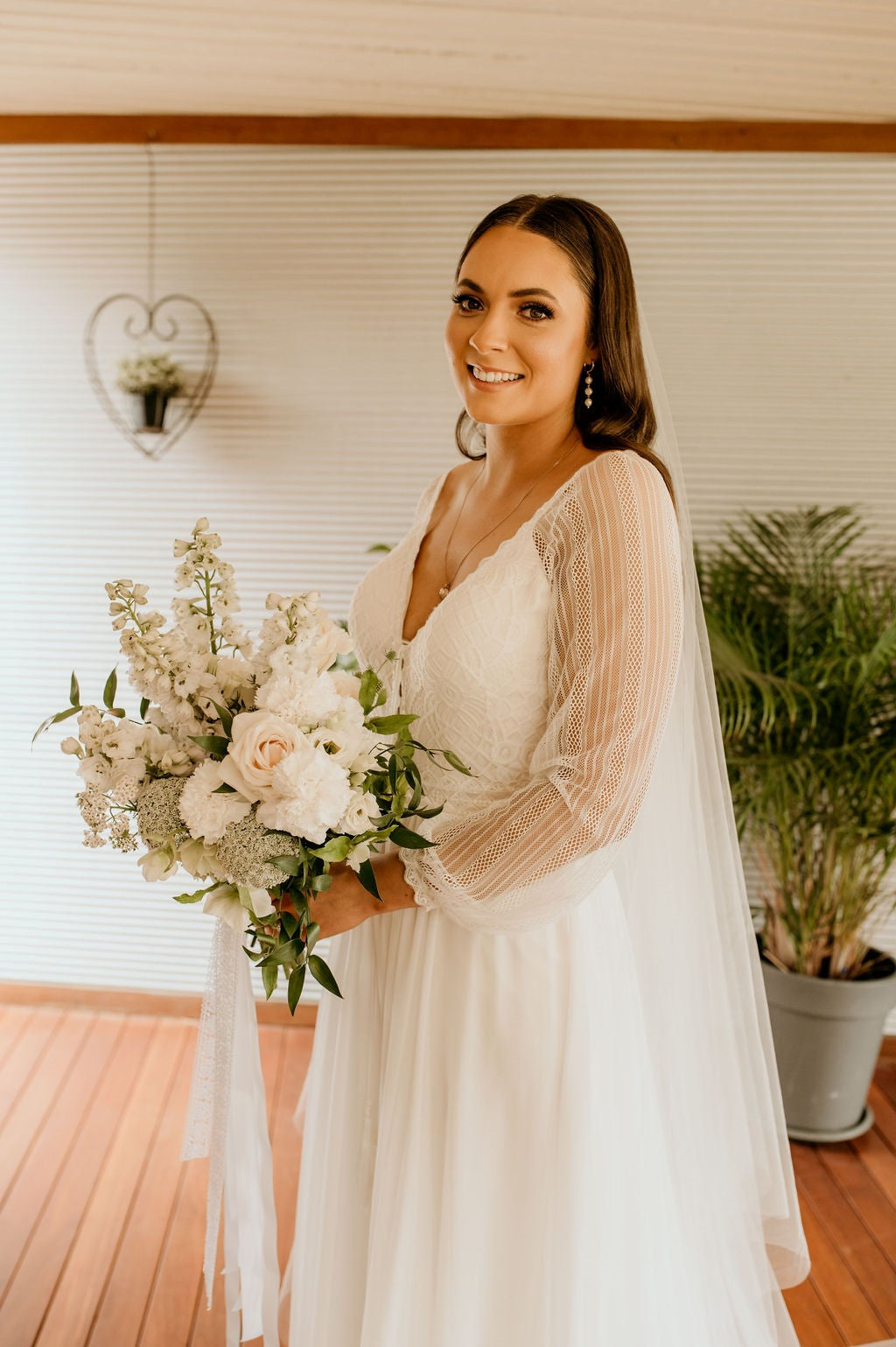 Tell us about your something new, borrowed, and blue, and what meaning each had
My 'Something New' were my Gold Pearl Drop Earrings from The Littl, I knew I wanted a statement piece of jewellery of quality that I could keep for a long time. They were a perfect match with the theme of the wedding and my personal style. My 'Something Borrowed' was my sister-in-law's veil. I couldn't find anything in stores that was right for my dress, her cathedral simple veil was per-fect and I am so grateful for her to have lent it to me! My 'Something Blue' was my Honeymoon dress. After leaving the reception, we passed home to drop off our wedding attire as we were going straight on our road trip-honeymoon. I changed into a baby blue mini dress from Seed which was a gift from my mother. It's such a special dress to me, it signifies the start of our married life together! 
First look of the bride and groom: was it in private, or at the ceremony?
At the ceremony. It was one of my favourite moments, turning the corner and seeing my partner waiting for me! 
Where did the ceremony take place? And what was special about this location to you?
The ceremony & reception were held at Al Ru Farm in One Tree Hill. My sister also got married there and it was so special to share such life-changing moments there together. 
Which speech touched you the most?
My fathers! It was funny, warm and just typical "Dad".
What was the most important thing to you, on your wedding day?
The time my partner and I spent together in between photos, the reception and catching up with people. We had a few pockets of moments just on our own to sink into the day and savor the moment.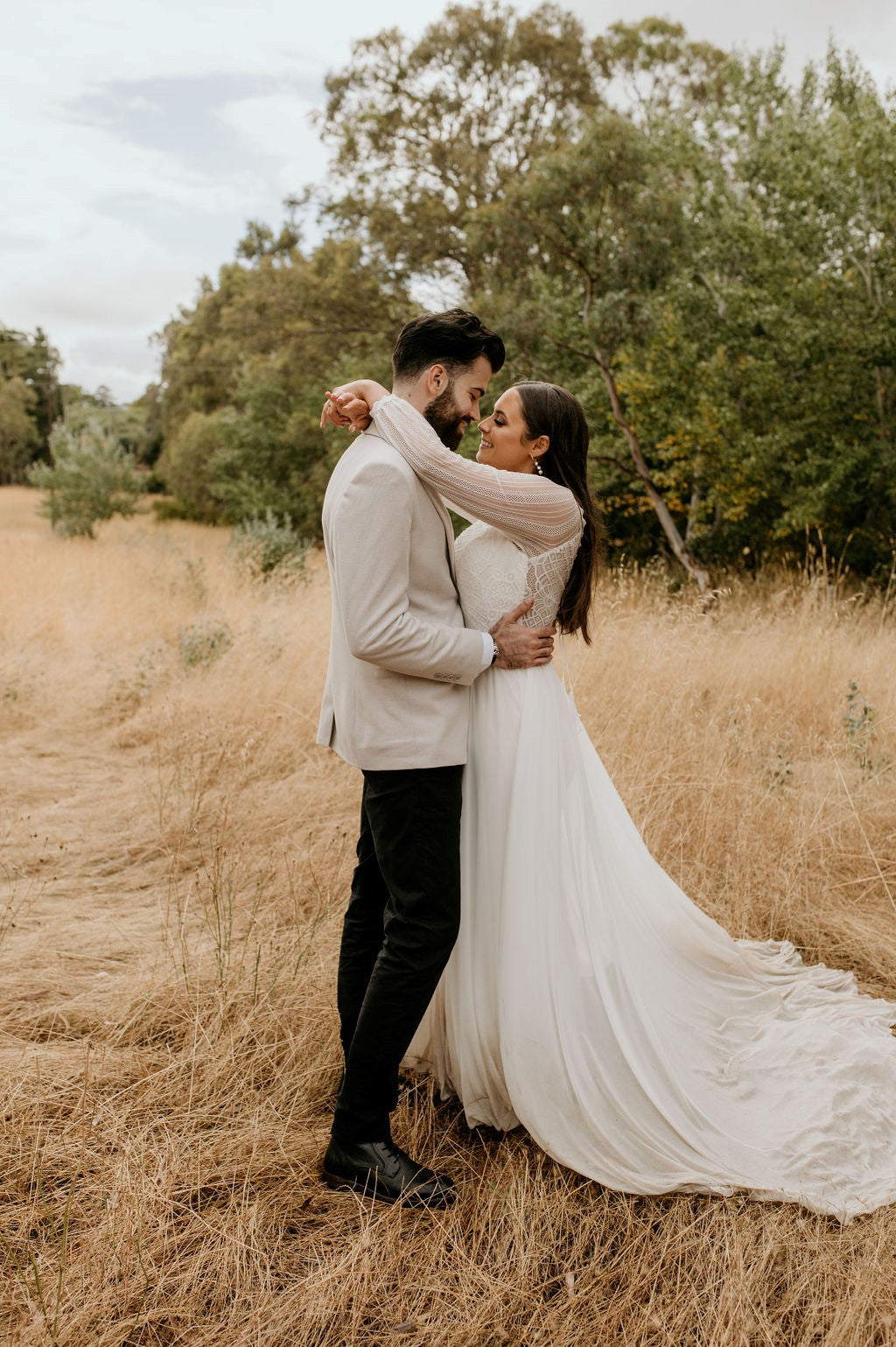 Where did you go on your honeymoon, and what was the highlight of it?
Due to COVID it was too risky to book any flights overseas or even interstate at the time. So we decided to do a road trip around South Australia. We spent most of our time at Robe which was definitely the highlight for me: great food, amazing weather and perfect memories made!