This store requires javascript to be enabled for some features to work correctly.
11 Questions With Caitlin Bryan
Gabi and I met onTinder, which I feel is really common at this age and in these days. On our first date Gabi was so shy and nervous, so she was happy that I am a very outgoing person that talks a lot!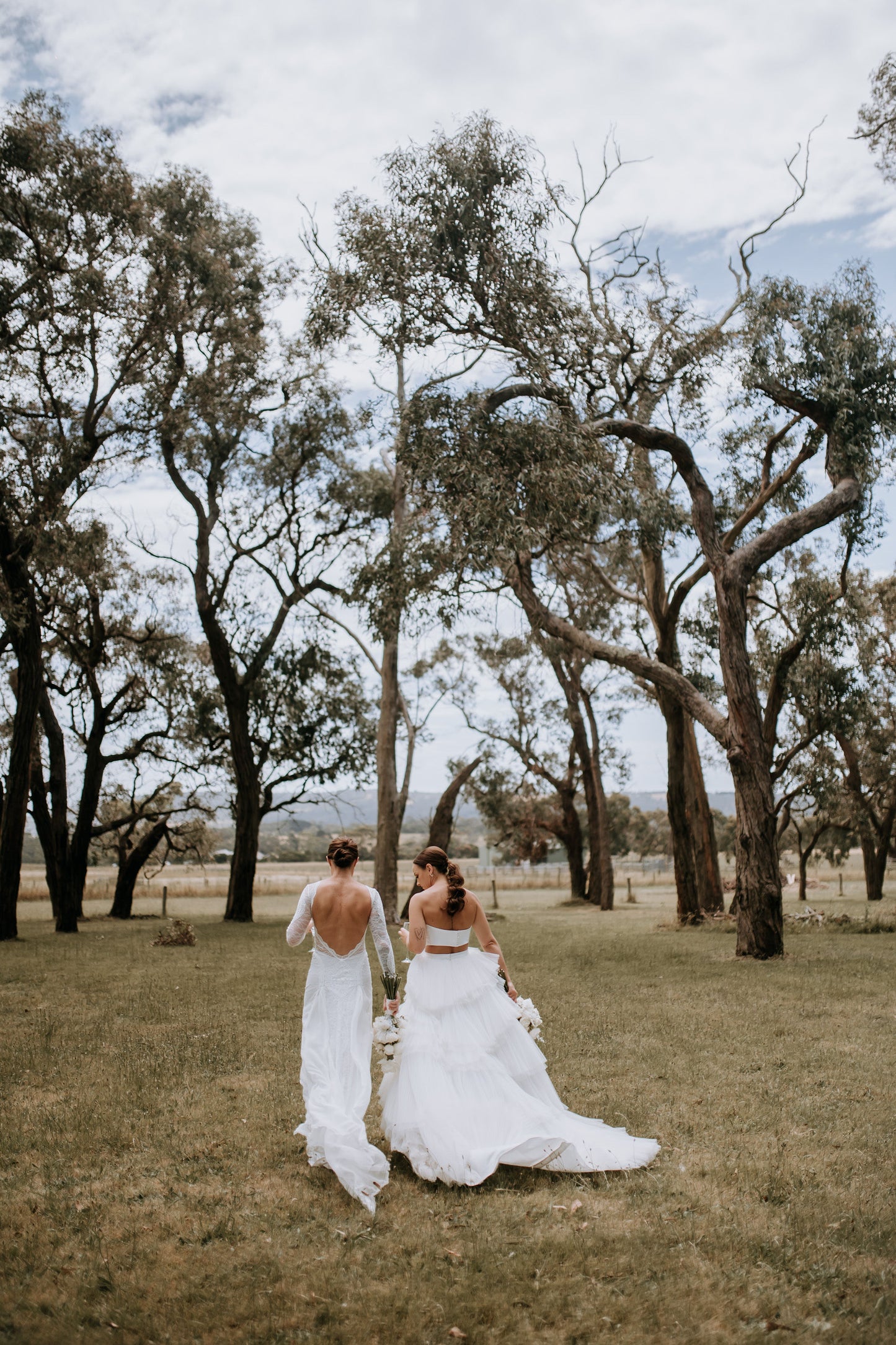 How did you or your partner propose?
I proposed to Gabi! It was just before the very first lockdown began in March 2020. I blind folded Gabi after work, brought her to our backyard of our first place together where I had set up a picnic and a teepee with flowers and fairy lights.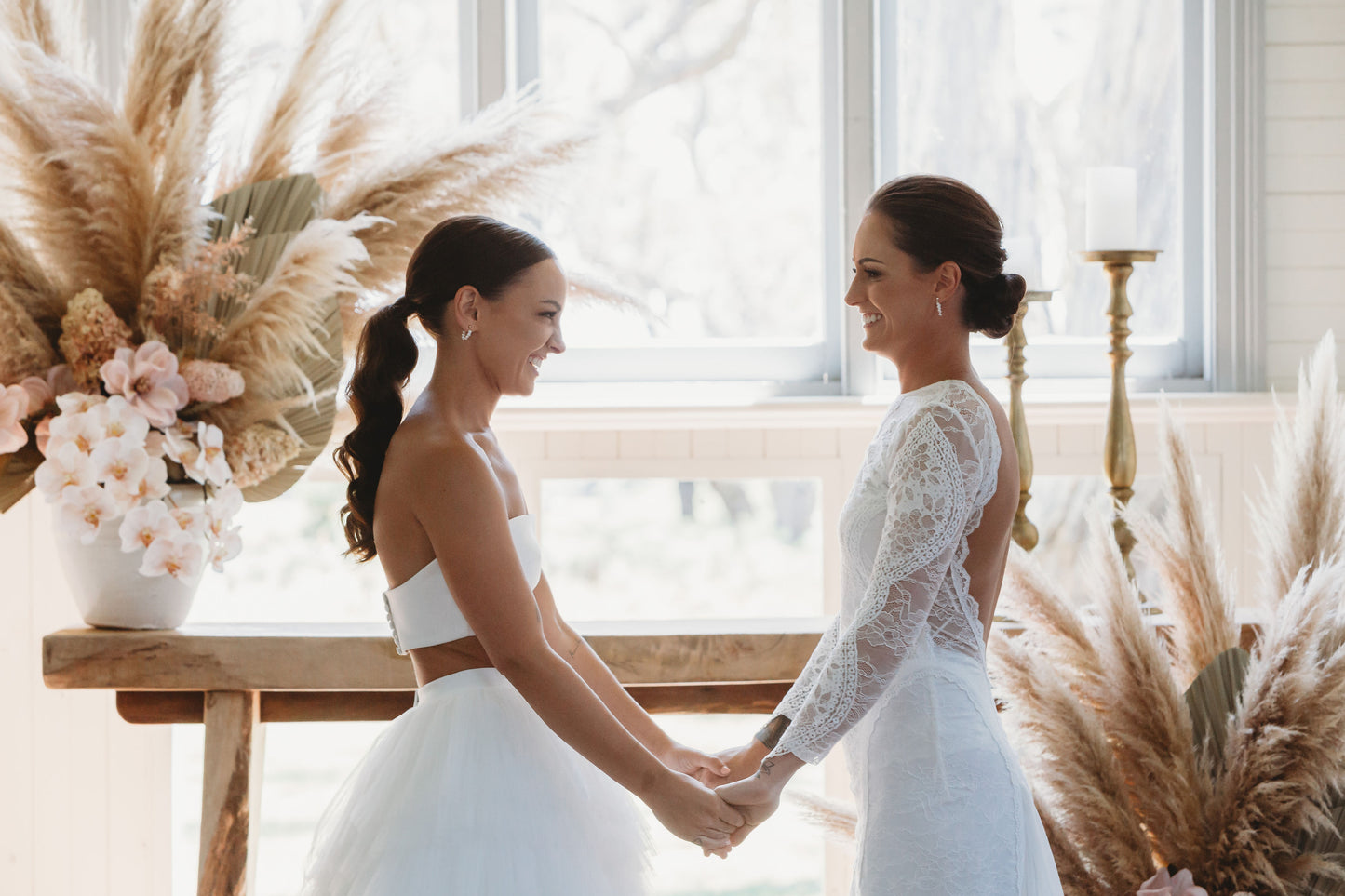 What are 5 words that would best describe your Big Day?
Intimate, meaningful, full of love and tears! 
Was there a certain look & vibe that you wanted to create?
We had a big wedding planned in Queensland but unfortunately, we needed to cancel due to border closures. So we decided to elope in Melbourne. We went for a simple and minimalistic look & feel and organised everything ourselves!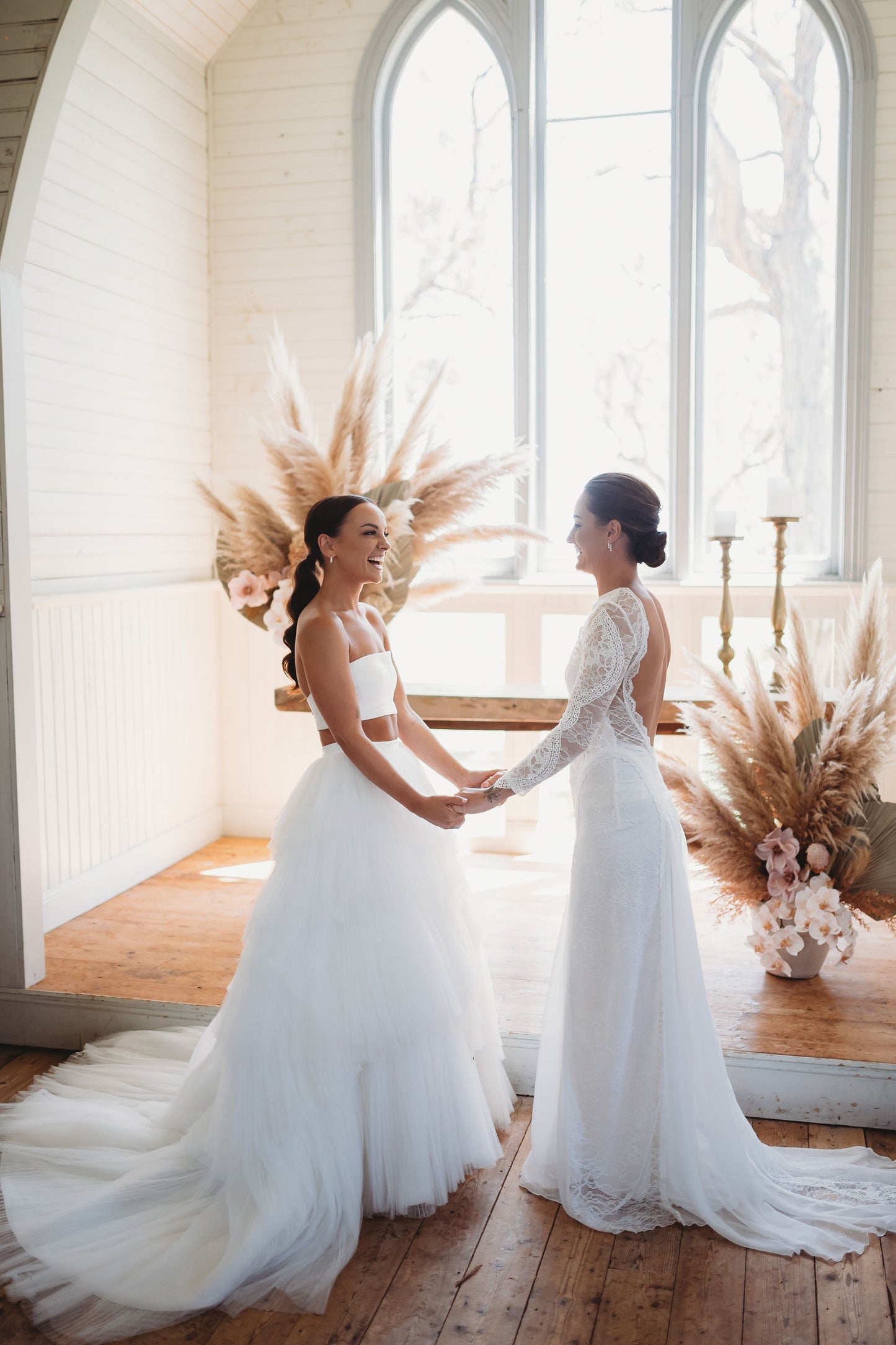 Describe your dress, and your favourite design trait about it.
My wedding dress was a two piece set. It had the Cinderella-style skirt of my dreams which was my favourite part. Gabi wore a long-sleeved lace dress with a gorgeous low V-back!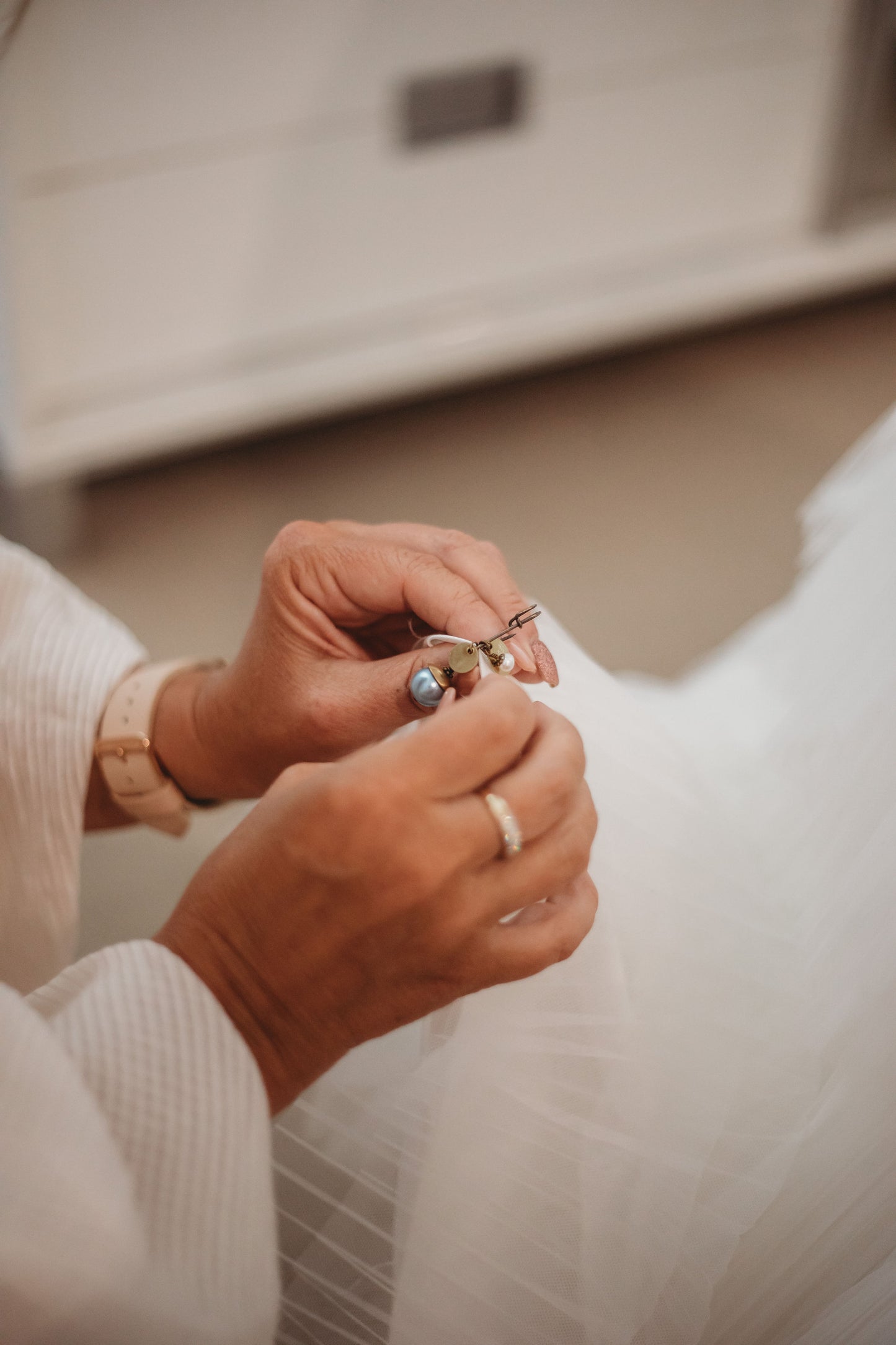 What Littl jewellery did you choose to pair with your wedding look?
I was wearing the Freshwater Pearl Stud Earrings and Gabi the Freshwater Pearl Ear Jacket Earrings. We both went for 14k gold fill. Furthermore, my mum gave me a pin with mine and Gabi's wedding date on it that I wore on the inside of the bottom of my skirt.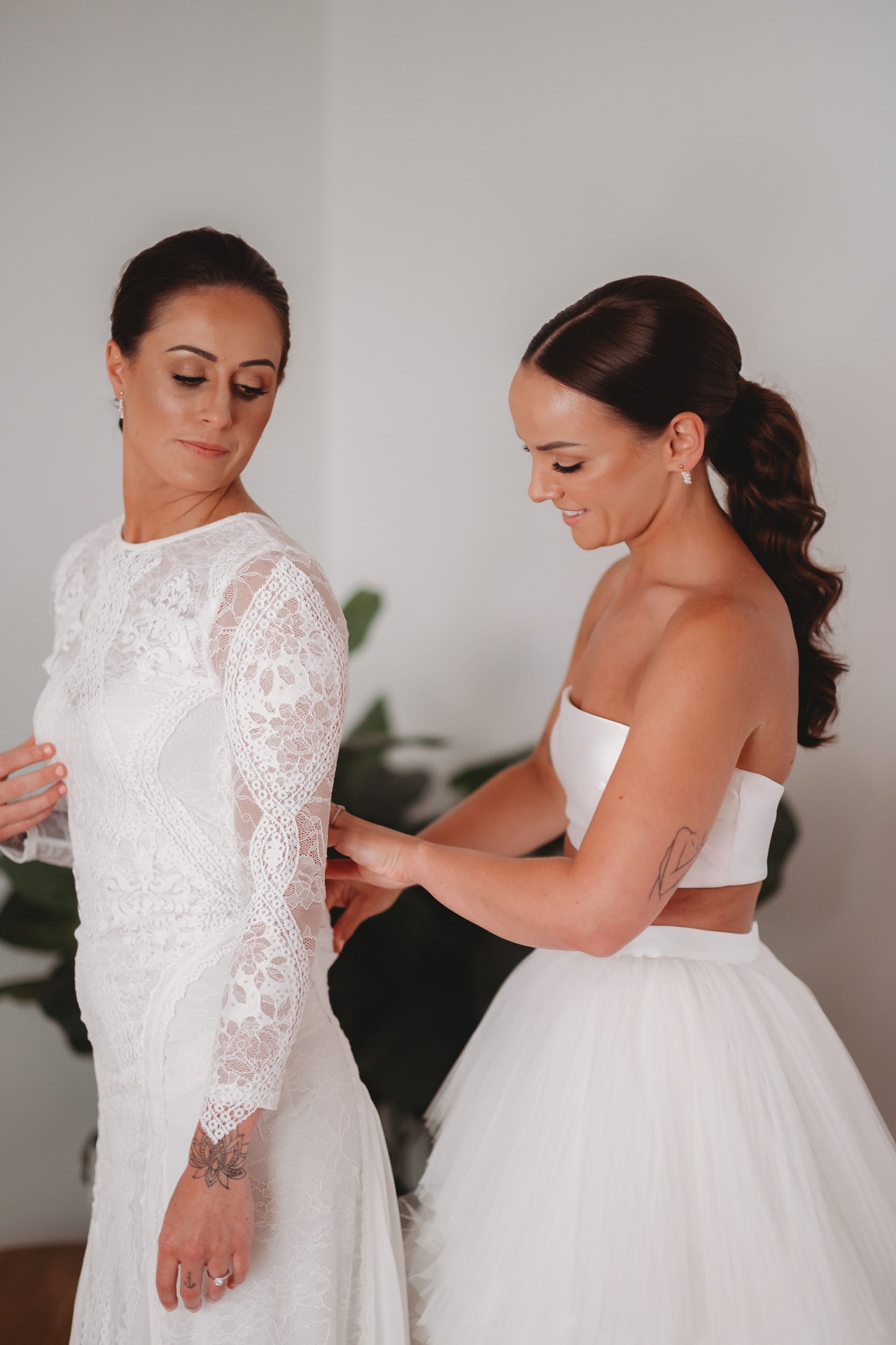 How would you describe the "getting ready" process on the morning of your wedding, and what would you change about it, if you could?
We wouldn't change a thing, it was so relaxed and chilled! Gabi and I got ready together which made the morning less nerve-racking having each other there. 
Who walked you down the aisle, and why does this person have a place in your heart?
Both of us walked down the aisle with our dads on 'Simply The Best' (Shitts Creek Version), this was such a special moment for us! 
On a scale from 1-10, how nervous were you for your big day? Do you have any tips on how to get rid of those nervous butterflies?
I wasn't nervous at all, but Gabi on the other hand was extremely nervous! She hates people looking at her so on the big day she tried not to focus on the people around us but on looking at me, which helped her a lot!
What would be your biggest advice to other couples currently planning their wedding?
The biggest advice will be most of all, to make decisions on what will make you and your partner happy! You won't remember if you made aunty Carol happy by having her favourite type of flowers. And secondly, steal a quiet moment alone with just the two of us during all the craziness. 
What were the most important aspects of your wedding day to you?
Simply marrying Gabi, all we wanted was to be each other's wives and have that special day for ourselves.