This store requires javascript to be enabled for some features to work correctly.
11 Questions With Kirralee Tucker
Even though we both lived in Brisbane, Luke and I actually met on a small island in the Pacific. We were both there on a FIFO working contract, and had both noticed each other around site. I had thought he was out of my league, and he had been told I wasn't one to date at work. Thankfully, Luke decided to take a shot anyway, and had a mutual friend set us up for lunch in the Mess Hall. We bonded over our solo travel stories, and as they say, the rest is history!
How did you or your partner propose?
Luke proposed to me while we were on a mini getaway to the Sunshine Coast. I'd actually booked us two nights in a 'tiny house', and he'd only months earlier told me marriage was far down the list of priorities for him, so I wasn't at all expecting it. We'd stepped outside to take in the sunset over the hinterland, and he suggested we get a self-timer photo with the sunset in the background. Little did I know he'd hit record on his phone, and had a ring in his back pocket, dropping to one knee as soon as we'd taken the 'photo'. I was in so much shock he had to ask me again!
What style were you striving for with your wedding?
My style was definitely simple and classic. One of the first things we purchased was my Husband's suit, which was a bit of a statement piece, as it was in maroon with navy. I knew after purchasing the suit that I wanted to keep everything else super simple, so all my styling was black, white and a touch of greenery. We ended up having a very quick turnaround time between the Engagement and Wedding, so keeping it simple and classic worked best! I very quickly went over our budget with vendor choices, so hiring additional help wasn't really an option so I ended up doing everything myself! In the end I surprised myself with how much I enjoyed getting creative within the whole process, and I somehow managed to get it all sorted without too much stress. 
Describe your dress, and your favourite design trait about it
I wore the Ellington dress by Melbourne designer Jane Hill. Like the theme of the wedding, it was a simple and classic crepe dress, with a square neck and a low back. My favourite design trait was definitely the back of the dress - it added character, and looked stunning in the photos!
What Littl jewellery did you choose to pair with your look?
I wore all gold to match my Engagement and Wedding rings. My chosen pieces were the Triple Freshwater Pearl Necklace, the Triple Freshwater Pearl earrings, and the Ball Beaded Bracelet.
How would you describe the "getting ready" process on the morning of your wedding, and what would you change about it, if you could?
The getting ready process went really well! We started the morning with coffees and face masks, and had a really fun few hours getting our hair and makeup done. We'd made sure to start early so we didn't feel rushed. It was a bit chaotic in the last half hour before we left, just trying to ensure we hadn't forgotten anything, and calming the nerves/excitement as the reality of it all kicked in. We ended up being late, but thankfully only by about 10 minutes! If I was to change anything, I'd have left a little extra time between being ready to go and actually leaving, just to give us time to calm the nerves, double-check we had everything, and just take it all in!
On a scale from 1-10, how nervous were you for your big day? Do you have any tips on how to get rid of those nervous butterflies?
I was surprisingly calm given I'm usually a pretty stressed person haha! The only time I really got nervous was just before we left for the venue - partly because we were late, and partly because of the anticipation. I think what really helped me was just accepting that everything would happen as it should, reminding myself not to worry about the things that weren't going to plan (as there's always something) and just doing my best to take in each moment.  Remember that the most important thing is just to enjoy the day!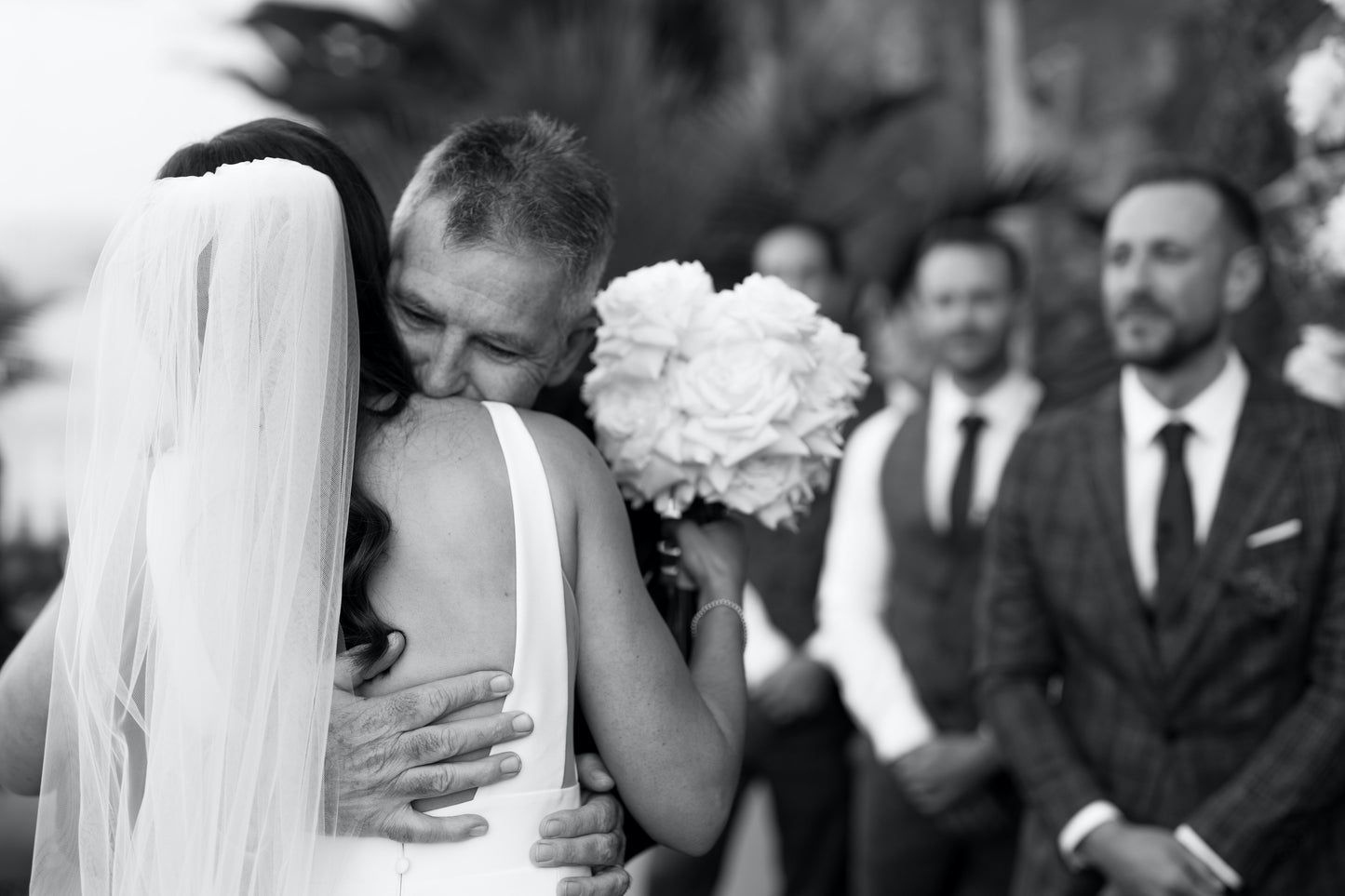 Who walked you down the aisle, and why does this person have a place in your heart?
I was lucky enough to have my Dad walk down the aisle. Unfortunately, Dad is currently fighting terminal cancer, so my biggest priority of the day was having him there with me. Thankfully, he was in good health on the day, and we had some really special moments together. We both teared up just before we walked down the aisle, and it was really special to have that moment just the two of us. 
What song did you choose for your first dance?
We chose 'Don't Stop Me Now' by Queen. We had a really tough time choosing our first dance song (I believe this was the third song we'd chosen, and we only sent it to the musician 2 days before the wedding!). We knew we wanted something fun and upbeat that everyone could jump in on, rather than something super slow. Plus, we're both terrible dancers, so knew we'd need something easy to dance to, and this song did the trick!
Fill this sentence: "If it wasn't for ... , the wedding would have been a complete disaster!
"My family". My mum and sisters helped me make any decisions I was struggling with, and always reminded me that it was our day, and we could do what we wanted!
What were the most important aspects of your wedding day to you?
Firstly, having all of our closest family and friends there! We still lost a few last minute due to Covid and other illnesses, but thankfully most people were able to make it! Secondly, making sure everyone had fun! We wanted it to be a celebration, nothing too formal or cliche. During the planning process, we made sure that we didn't do anything just because 'that's what you do at a wedding' and only included things we really wanted to! Thirdly, spending moments with each other throughout the night. Both my husband and I made a conscious effort to pull each other aside at different times and just take the moments in, and we're really glad we did that! 
What would be your biggest advice to other couples currently planning their wedding?
I think just remembering that it is your wedding, and to do whatever you feel is right for the two of you! If you don't have a wedding planner, reach out to friends/family for advice as they've been through it all before. And lastly, don't stress the small stuff!